H
ello
E
veryone,
I've been meaning to get cracking on this post for a couple of days but kept thinking I had so much to say which set my inclination to send this to the back burner. However, today
Alan asked me why the hell I had a camera out so I figured id state all of my intentions and stop being so damn mysterious.
Now I'm not going to dilly dally here there are a few videos which are a bit slow to get into so
I'll give you the highlights here in text and you can watch videos if your bored... or need to be bored.
First and foremost I have undertaken a mini side project for the next 365 Days... it is called *Drum Roll*
"the 365 Day Project"
http://www.365dp.co.uk
.
This project basically requires that I document student projects as well as my personal
Polydoodle Pictures collaboration project
with video and photography. There will also be a number of additional tutorial videos and some funny stuff
(nothing dodgy don't worry)
.
There is also a thing which I'd like to get off the ground called "The Drop Shop" which is a random image library id like people to submit images to but it does require that you sign up to the website
(I have made a video for how to do that so don't worry I got you covered! See Below)
.
This website is to be a time capsule of my third year University experience
(365 Days from my Birthday Sept 1st 2013 - Sept 1st 2014)
.
Providing it is okay with Phil, Alan and of course CG Arts Students I would like to document my third and final year to look back on. After the 365 days I wont ever touch the website again...
I will even put it in my will that it is to never be taken down ha ha...
The topics covered by the 365 day project are as follows:
Angry Bear:

My past which believe it or not is what got me started with his first bit of digital software: Photoshop. Amongst these past experiences are amateur Jackass stunts and wrestling bouts plus a couple of ridiculous short film concepts. This topic is all about fun and my own personal experiences which I want to remember some day…
The Drop Shop: Is a fun little community based topic. It is the simplest thing to use to make it community friendly. It is basically a photo archive of images which students can contribute to (random images from IPhones preferred) but only for the duration of the project. It is an album of memories to look back on.
Exclusive Leap: An informative topic disclosing the exploits of my independent company "Free Fall Interactive Limited" as we attempt to build and create our first independent game. There are also other side projects that fall within the Free Fall Interactive Hierarchy, these projects will be showcased where I am able so bear with me.
Step Guide: This is basically my personal methodology when it comes to pursuing creative feats. Throughout these posts I will try to talk about my personal processes in response to briefs… targeted at people who don't understand but wish to.
The Doodler: This is my Year 3 University Project in which I have banded with 2 other people to form a miniature studio "Polydoodle Pictures". Throughout the course of my final year at University I will be posting small updates from our project on this site for everyone to see. This is a chance for people to follow our team based exploits.
Operation Z: Is ZBrush exploits. For those of you that do not know ZBrush is a 3D modelling program primarily used for character design. Over the course of this project I will be using ZBrush to show a couple of tutorials and build my own 3D models for our projects.
UCA Just In: This is to showcase other student projects and creative methodologies. I will use this to interview certain students and lecturers (if willing) on my course (CG Arts & Animation) at UCA Rochester. This is an inside look beyond my own processes at the future of CG Arts. I will post what I am allowed by the students, people who wish to Opt out have to let me know…
Now before Alan and Phil ask how the hell I'm going to fit this in and still be alive at the end of the third year don't worry.
I will fit a video in here and there which should only require a bit of editing there's gonna be no text barrage just the odd video. The majority of work will begin when the third year is over during the summer months leading to Sept 2014
(this is unless of course that other people want to get involved in the editing process... just saying)
. Until then I will be documenting
(videoing)
what I can which includes student interviews.
UCA Just In! See Video below!
Interviews are going to be conducted throughout 3 periods of respective student projects. I will time them for 5 minutes each which should work out to a final 15 minute video showcasing each of your projects at key points
( Beginning, Middle and End - Behind the Scenes)
.
I would ask that if this does not interest you or the idea of being on camera terrifies you please opt out by commenting on this post below. I will write your names down and do my best to keep the camera out of your way! This of course swings the other way if you really want to be involved in UCA Just In please opt in below!
There is a limit to how many interviews I can handle but I will do as many as I can.
If you have any questions about this please feel free to approach me I don't mind answering any questions.
Another less publicised feature of the 365 day project is actually a feed which shows the activity on my computer screen LIVE with a small web cam feed.
This will allow people to see what I am doing for the 365 day duration. Anytime day or night this feed should be active for an entire year, although it may be down if I'm rebooting or have a momentary Internet interruption.
(The image below is what you will see in the stream window)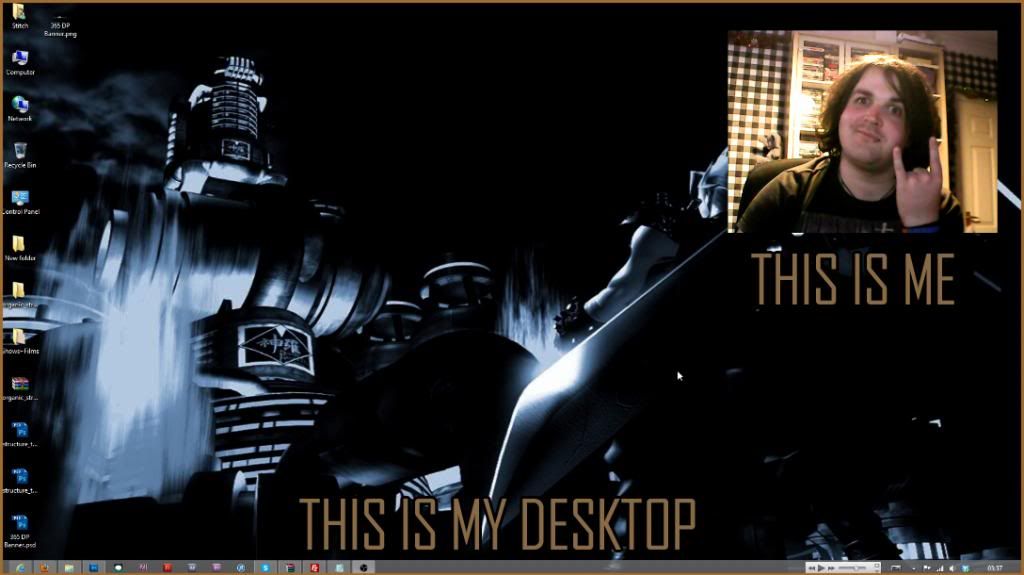 The feed can actually be found here:
http://365dp.co.uk/?page_id=399
.
I am buying an extension cable so people can see all activity on the web cam. At the moment you can only see me when I'm working on the computer.
This is really where the project name (365 Day project) came from but after a while it started to take on different forms. I found the best way to deal with it was to break it into sections.
This is just meant to be a fun project I'm not looking to document misery like the paparazzi. I just want to reflect back on this moment of my life because its where I had to start "moving on" as it were.
I want to be able to show my family the work that goes in to what we do, I want them to understand this industry a little better... because I'm really not good at explaining it myself :P
Anyway I hope this is okay Alan, Phil, creative colleagues.
If the University has issue then I will simply document what I can outside of the University but ideally id like to be free to capture every experience (including our Polydoodle Pictures tutorials).
I leave this with everyone.
Thank you again!
xXStItChXx