Day 05, Sunday
Figure 01. Breakfast
I know my previous posts have been pretty much picture filled with little text, but these were the pre-conference shifts, now for the main event!
Today I walked around the conference on it's first open day, saw some great stuff, spoke to some interesting people, swapped business cards, and networked - which I will elaborate on in other posts.
In the afternoon there were some really cool events just for us SVs (Student Volunteers), the first being a few guys from Blizzard to talk about what it's like to work at Blizzard Entertainment and how they got into the industry...
Figure 02. Blizzard logo
'Journey inside the iron gates of Blizzard Entertainment and engage directly with some of the creative forces responsible for the cinematics of the World of Warcraft, Diablo and StarCraft franchises'
Clip 01. World of Warcraft : Mists of Pandaria Cinematic Trailer
We were screened some cinematic trailers of they're recent work, then the details began.
➤ The mediator for this talk was
Scott Campbell
He is currently Art Recruiter at Blizzard Entertainment.
His previous roles include ;
- Recruiting Supervisor at Walt Disney Animation Studios and Disney Research
- Senior Recruiter at The Walt Disney Studios
- Senior Recruiter at Digital Domain, and
- Contract Recruiter at Lucas Digital (ILM, Skywalker Sound)
Education : BS, Political Science - Santa Clara University
➤
Marc Messenger
- Project Director
Figure 03. Marc Messenger
Marc's current role is Senior Cenematic Artist at Blizzard Entertainment, previous to this he has 21 years experience as a self employed Illustrator / Storyboard Artist.
Education : Film - Chapman University
➤ Jeff Chamberlain - VFX Supervisor
Figure 04. Jeff Chamberlain
Jeff is currently a Lead Cinematic Artist at Blizzard Entertainment.
Education : James Madison University.
➤
Mike Kelleher
- CG Supervisor
Figure 05. Mike Kelleher
Mike Kelleher is currently a CG Supervisor at Activation Blizzard.
Previous roles include;
FX Supervisor at Blizzard Entertainment
Technical Director at The Orphanage
Lead TD at Renkewitz Studios.
Education : BS, music - Indiana University Bloomington
I've listed a little bit of information about each speaker to show the diversity of backgrounds and how they each worked their way up to the roles they are currently occupying.
Blizzard are currently hiring.... so if you're interested - APPLY!
Full-time opportunities -
Here
Summer Internships and University Relations -
Here
After this interesting talk about Blizzard and the people behind the work coming from this studio, we had another treat!
Figure 06. Pixar Logo
Our next special guest speaker was the Director of Pixar's new short film - The Blue Umbrella!
Clip 02. Snippet of the new Pixar Short - The Blue Umbrella
Saschka Unseld
- Director of Pixar's The Blue Umbrella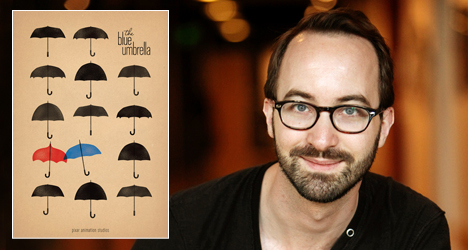 Figure 07. Saschka Unseld
This short film is currently accompanying the screenings of Monsters University in cinemas.
Saschka Unseld is from Germany and studied at Filmakademie Baden - Württemberg.
On Sunday afternoon (21st July 2013) we were excited to sit down in a small room with a handfull of SVs for this exclusive insider talk by Saschka Unseld, the newest of the Disney Pixar Short Film Directors. We were shown a screening of the short film 'The Blue Umbrella' followed by an indepth breakdown of how the project proceeded.
It all started when Saschka was walking along the street one day and saw an umbrella that was broken and had been discarded upon the curb-side. It was one of those moments (every artist should know what I mean) when you see something and you suddenly wonder what the backstory of this now inanimate object had been. So he took a photo of this broken umbrella that he had felt so sad for (he showed us the picture), stored it away in his memory for any future inspiration and continued with his journey.
While Unseld was working away at Pixar, he decided to pitch an idea to John Lasseter thinking why not... everybody working there can pitch ideas for a potential film. He explained to us that in order for a film to be pitched to Pixar, three ideas must be available and each idea presented to John Lasseter, then if Lasseter likes any of these ideas the best one will be selected to take further.
Unself then went on to show us the stages of the short film, previous inspiration, storyboards, animatics, pre-viz and then the final stage for each clip selected to show the progression. Following this he presented to us his pitch, exactly how he presented it to Lasseter to show us how things can change during the making of a film from pitch to final product and how some things might not have worked if they hadn't been run through the team so many times and solved in a better way.
Following this brilliant walk through of The Blue Umbrella film, he offered up a chance for Questions and Answers, and as there was nothing else scheduled for after this event he freely said it doesn't matter how many questions, we're in no rush so I'll answer them all. 2 hours after the talk was supposed to end we came out of that room full of answers and inspiration from this very nice guy.
Then after that was dinner and drinks (Mojitos that for some reason became stronger each round).... healthy ;)
Figure 08. Dinner